Intourist-Krasnodar ***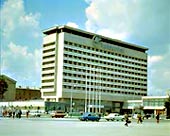 from $130 + VAT

The three-star Intourist Hotel (13 floors, 272 rooms) is ideally located in the city centre close to the administrative district. The Historical Museum, embassies are close to the hotel.
Airport - 30 minutes.
Railway station - 10 minutes

The hotel has restaurants, big concert hall, conference halls, banquet hall, cafeterias, sauna, busness - centre, barber's shop, pharmacy and taxies.
Address:
109, Krasnaya str.
From Russian Women with Love

RUSSIA, 196240, St. Petersburg,
1 Victory sq, office 5029,
+7 (812) 740-3979

Contact Us



THIS PROGRAM IS THE SOLE PROPERTY OF FROM RUSSIAN WOMEN WITH LOVE AND MAY NOT BE COPIED IN ANY WAY OR FORM WITHOUT EXPRESS PERMISSION FROM FROM RUSSIAN WOMEN WITH LOVE.

© COPYRIGHT 1996-2021 - ALL RIGHTS RESERVED.