Women of Cities













Tours


























Travel










Services












Information







---

ROMANCE TOURS
TESTIMONIALS







1,12Mb
A few words about the Cartagena Tour.

---



About Krasnodar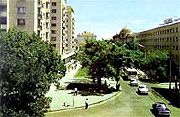 The street Mira

Krasnodar is the center of the Krasnodarsky kray (region). The city is situated on the Kuban river and has a population of 631,000. Krasnodar was founded in 1793 and was known as Ekaterinodar until 1920. Oil processing and the building of oil-production machinery are the main industries of the city. There is a chemical plant as well as fur manufacturing in Krasnodar. It is the center of the ancestral region of the Kuban Cossacks.

From Russian Women with Love

RUSSIA, 196240, St. Petersburg,
1 Victory sq, office 5029,
+7 (812) 740-3979

Contact Us



THIS PROGRAM IS THE SOLE PROPERTY OF FROM RUSSIAN WOMEN WITH LOVE AND MAY NOT BE COPIED IN ANY WAY OR FORM WITHOUT EXPRESS PERMISSION FROM FROM RUSSIAN WOMEN WITH LOVE.

© COPYRIGHT 1996-2021 - ALL RIGHTS RESERVED.