Moskva ***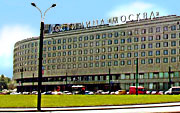 from $54 + VAT

Two restaurants, business-center, barbes shop, shops. Exchage office.
Has 735 rooms. We'll advice you agoinst ordering the breefast.
Address:
2, Alexandra Nevskogo square., Sankt-Petersburg (See map).
From Russian Women with Love

RUSSIA, 196240, St. Petersburg,
1 Victory sq, office 5029,
+7 (812) 740-3979

Contact Us



THIS PROGRAM IS THE SOLE PROPERTY OF FROM RUSSIAN WOMEN WITH LOVE AND MAY NOT BE COPIED IN ANY WAY OR FORM WITHOUT EXPRESS PERMISSION FROM FROM RUSSIAN WOMEN WITH LOVE.

© COPYRIGHT 1996-2021 - ALL RIGHTS RESERVED.